Precision Graphics Installs Juki ISM Storage Towers
October 22, 2019, Submitted by Katelyn Hudak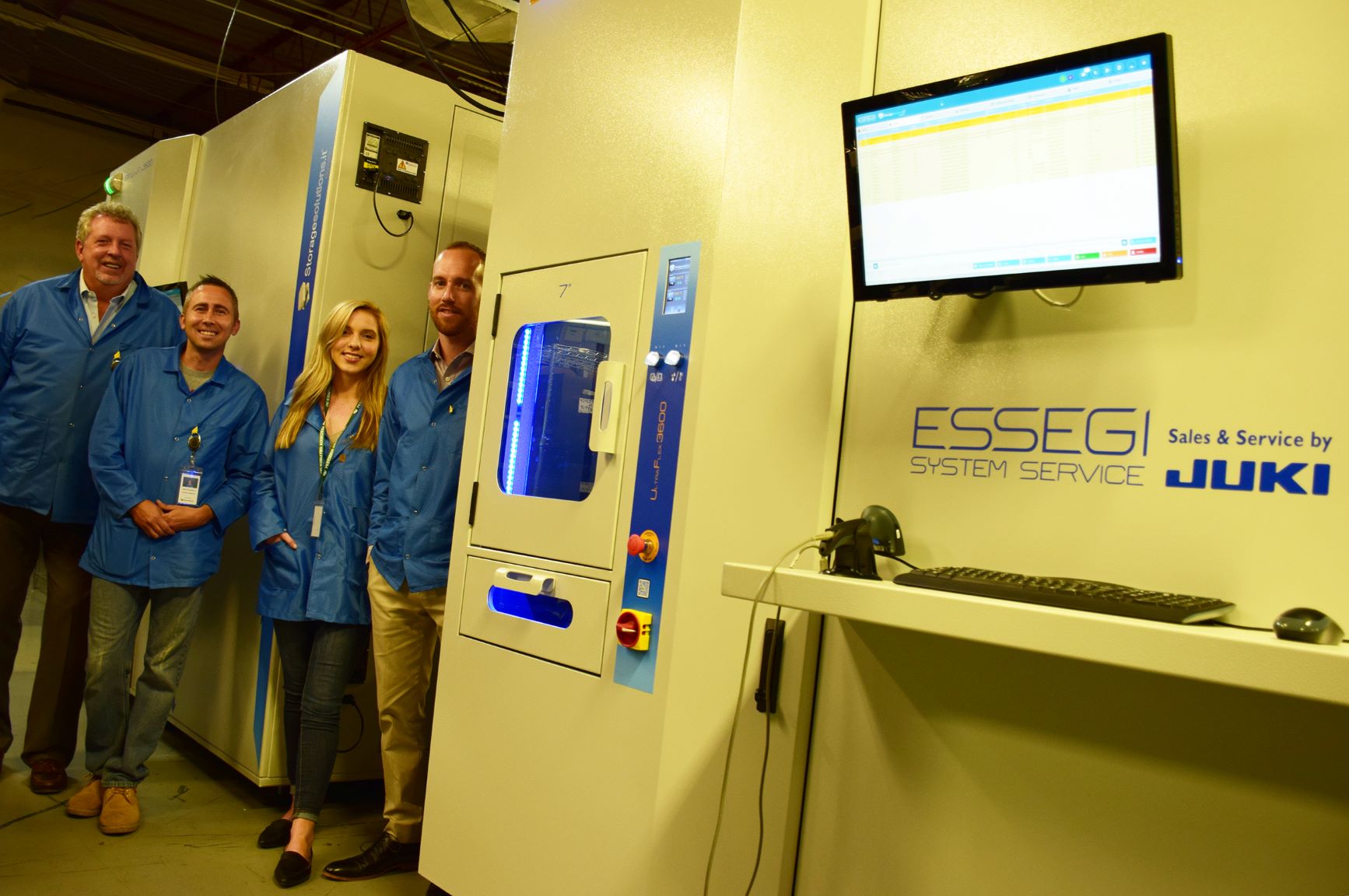 MORRISVILLE, NC-October 2019- Juki Automation Systems (JAS), Inc., a world-leading provider of automated assembly products and systems and part of Juki Automation Systems Corporation, is pleased to announce that Precision Graphics Inc. (PGI) has purchased and installed two ISM Towers and an Incoming Material Station. The systems have been installed at Precision Graphics' 25,000 ft.2 facility in Somerville, NJ.
Chris Gilbertson, Quality Director at Precision Graphics commented: "PGI competes against overseas labor costs so we are always looking for ways to reduce our costs to stay competitive. The Juki Towers give us the ability to reduce the cost of material management. The Towers have increased our efficiencies through automation in Inventory Management and PGI's Material Handling Processes. This cost savings is passed along to our customers which in turn helps keep the business here in Somerville, NJ."
Juki's ISM storage management system provides a flexible storage solution, allowing PGI to focus on its value-adding activities. Using the ISM UltraFlex 3600s, PGI can flexibly store up to 3,644 reels, monitor them intelligently, as well as oversee the fully automatic import and export of the components.
"Precision Graphics has been one of Juki's most outstanding customers over the years," states Greg Lefebvre, JAS, Inc. Sales Manager. "They are being asked to continually improve for their growing business thus having tools like Juki's ISM towers and IMS table enable them to offer stronger and more competitive solutions to their customer base. We look forward to being a strategic partner for Precision Graphics for many years to come."
With the Incoming Material Station, operators can speed up material registration activities, avoid mistakes, and increase the traceability of each individual reel or component package. With its Auto-Incoming features, it is possible to automatically import information from the supplier and/or customers' label into the ERP and print a new Unique ID that can be used for many other functions within the factory. In fact, after setting the rules for each supplier's label, the operator can simply position the material on the Station and the high-resolution camera will read all the needed codes and information, take a picture for traceability purposes and print the new label.
Precision Graphics Inc. is a complete electronic manufacturing services organization. The company has more than 40 years of experience in design, layout, and manufacturing of printed circuit board assemblies. Precision Graphics' 10,000 ft.2 manufacturing area is custom built for sensitive electronics manufacturing to ensure its products meet the highest quality standards. For more information, visit www.precisiongraphics.us.
For more information about Juki, visit www.jukiamericas.com.
About Juki Automation Systems, Inc.
Juki Automation Systems (JAS), is an international leader in high-speed SMT Assembly equipment, has shipped more than 40,000 machines worldwide since 1987.  Juki has built its global image with a combination of top-quality and high-reliability machines with a reputation for world-class service and support that result in the lowest production costs for its customers. Juki machines have about 30 percent U.S. made content by cost. The pioneer of the modular assembly system in 1993, Juki offers flexible solutions designed for both high-volume and high mix environments.  JAS, Inc. employs 45 U.S. employees, including 20 service personnel five specializing in applications sales.
Additionally, JAS, Inc. offers a full line of SMT manufacturing products as wells as selective solder and stamp soldering machines plus Advanced Technology through-hole machines.   Juki supports one of the largest field service groups in the industry.  For more information, visit www.jukiamericas.com.
CONTACT:
Precision Graphics  Inc.
21 County Line Rd
Somerville NJ 08876
908-707-8880
Email: sales @precisiongraphics.us
Website: www.precisiongraphics.us.
Carlos Eijansantos
Juki Automation Systems
507 Airport Blvd.
Morrisville, NC 27560
510-468-6213
E-mail: carlos.eijansantos@juki.com
Web Site: www.jukiamericas.com